[原创] 灯下食鱼
暗夜迷茫无所终,河鱼一尾锅上蒸。
注水铁锅不过半,配菜磁盘有青红。
举箸轻拈腹肉肥,挑头细品脑浆浓。
灯下独食自悲叹,不得红颜奉酒盅。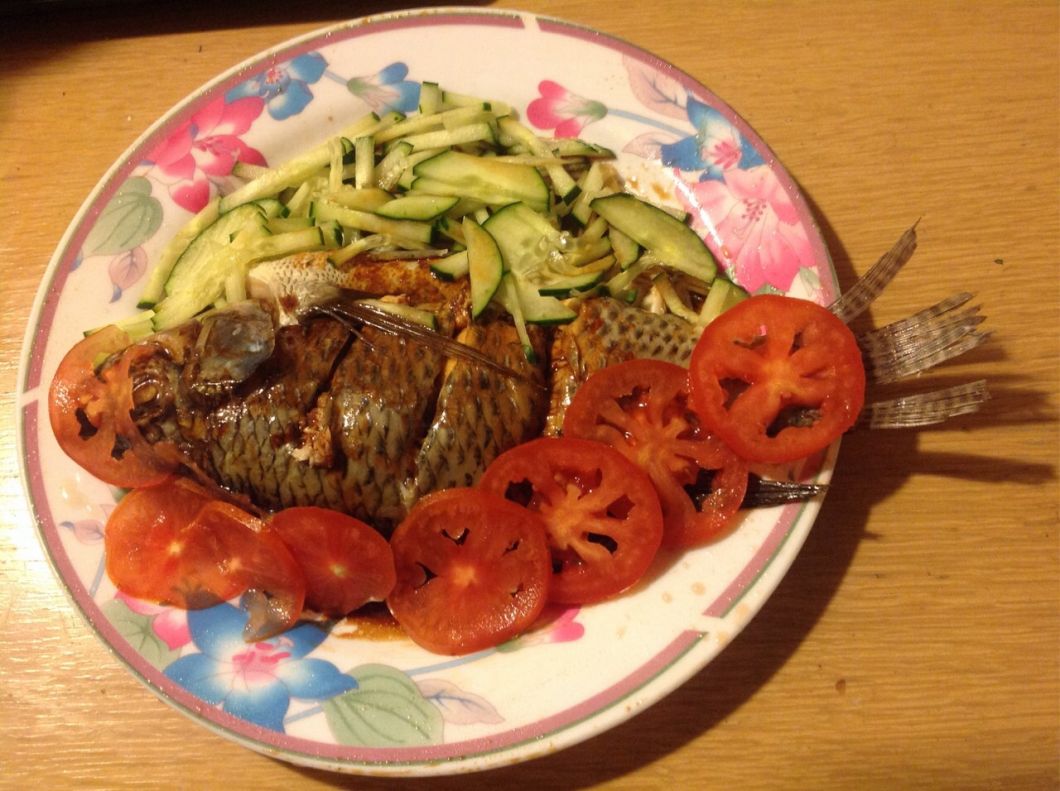 好诗。超然物外的飘逸,幽默。

我试翻译,多谢不吝赐教:

At this endless dark night I feel a bit lost,

Nothing to do I steam a fish in a wok.

Water in the wok, less than a half,

Beside the fish in the dish I have:

green cucumber and red tomato slides.

I taste its belly fat with chopsticks,

and break the head for its yummy brain.

Alas! Eating the fish alone is a pain:

I don't have a lady here who looks fine

to gently and warmly serve me wine.


In the dark night I felt at a loss
So I made a steamed fish course
Into the wok I poured some water
Covering less than half its measure
On the china plate I put vegetables
Red and green a delightful mixture
my light chopsticks picked up the fat belly
The omega three there gave much pleasure
From the head I savored the tender brain
The fine dense texture always my favor
Yet no beauty was there presenting wine
Sadly I sighed for the lonely dinner


修改

In the dark night I felt at a loss 9
And ventured to make a steamed fish course 9
Into the wok I poured some water 9
Covering less than half its measure 9
I put vegies on the china plate 9
Mixing red and green with the good taste 9
Lightly my chopsticks picked the fat belly 9
Gladly I tasted the omega three 10
From the head I savored the tender brain 10
The pulpy texture of a fish slain 9
Sadly I sighed, for the dinner lonely 10
By the lamp wine wasn't served by a beauty 10

或者
By the lamp how I wish to have a lady


今日学习什么是复字诗。例如
嘲柳州柳子厚

朝代:唐代

作者:呂溫

柳州柳刺史,種柳柳江邊。柳管依然在,千秋柳拂天。

Governor Willow of the State of Willow
By the River Willow he planted many a willow
Today we're able to see those trees of willow
Forever breezes blow the leaves of willow

那我以前写的这个也算复字诗了:

秋 歌 1998. 10. 3

秋 临 枫 市 叶 欲 红, 秋 水 匆 匆 行 色 中 。 秋 山 夏 绿 虽 犹 见 , 秋 夜 风 急 雨 更 浓 。 秋 月 圆 时 人 将 去 , 秋 云 纤 纤 画 闺 容 。 秋 心 一 串 成 愁 绪 , 秋 赋 填 来 给 谁 听 ?

In the town of maples autumn's turning leaves red
The river in autumn flows with an air of haste
The summer green in the hills can still be seen
The rough winds of autumn nights bring denser rain
As autumn moon grows full friends are to leave
The autumn clouds the texture of fair face achieve
My heart in autumn is filled with sadness and sorrow
This poem of autumn is for whom I do not know


你的诗谐趣中见真情。

读一些现代人写的古诗,多数玩堆字游戏,调来换去凑韵,无病呻吟。
明明啥事都没有,酸溜溜强说愁,让人不忍卒读。

现代人写诗,旧瓶新酒,韵律,平仄照旧,但内容上应有现代的时代特征,正如古代人的诗词有他们自己的时代特征。


美国生活点滴,也非律诗,呵呵

又是夏令至,晨觉天未光。备炊暝色里,斗困课堂上。校园折老韭,卧榻梦新房。更剪园中菜,四处送茴香。

when they change to summer time
i wake up to see the depth of night
in the dim kitchen i cook my meals
and later in classroom sleepiness fight
on campus i gather some blooming leek
on my bed i dream of a new bride
cutting wild dill in my yard
i gave it to friends in which they delight